UPDATED 1/15/21
An oval pink diamond sold for $9.5 million at Christie's New York Important Jewels sale on Tuesday, June 10. The light pink diamond was 5.5 carats. An original estimate placed the diamonds value at $7.5 million.
"Colored diamonds continued their fabulous run at Christie's spring auction season, with multiple phone lines bidding enthusiastically on the vivid pink. With the sale of The Winton Blue, The Ocean Dream, and the Oval Vivid Pink, Christie's achieved $42 million for these three exceptional diamonds alone," international head, Rahul Kadakia, said of the auction.
Diamonds' value are largely determined by carats. Large diamonds are rare. Exceptionally large diamonds, such as the 5.5 oval pink diamond, sell for exponentially higher prices. Experts also reveal that naturally colored diamonds earn more. "There's no price volatility with natural fancy colored diamonds. They've never gone down in value, [and] they've never been poised to appreciate more," investor Colin Ferguson explains.
Although you may be most likely to see natural, pink diamonds, Ferguson adds that naturally colored, brown diamonds are a good starting investment. Brown diamonds actually include an array of colors, such as "champagne, cognac, chocolate, and hazel diamonds," according to Resource Investing News. Overall, Tuesday's auction earned nearly $29 million.
Perhaps a 5.5 karat diamond extends out of your shopping range. You do not have to spend Christie's or Sotheby's prices to obtain a diamond ring for yourself or your beloved.
You can visit an engagement ring broker to purchase a dazzling, but more sensible choice. You can also choose to have the broker sell you loose diamonds so you can contract with a jeweler to design an eye-catching ring that utilizes the individual diamonds you purchased. This method allows you to purchase inexpensive loose diamonds of good quality and work with a designer to turn them into a fabulous, one of a kind ring.
Try mixing half carat loose diamond gems with larger carat weight stones such as a sapphire or ruby. Most locales have at least one jeweler who provides design services. In major metropolitan cities, you may find multiple options for jewelry design.
You can create a one-of-a-kind gift for your loved one without the multi-million dollar price tag. Shop a diamond broker today to begin your engagement ring design journey.
Just because a 5.5 karat diamond is out of your price range doesn't mean you can't have a bit of sparkle in your life. You can enjoy a similar sense of luxury on a slightly smaller scale by checking out your local diamond buyers. They may offer you cash for diamond rings, so if you have any older styles laying around the house, you could trade them in for a bigger, flashier diamond. Keep in mind you can also get cash for wedding rings, so perhaps checking out a diamond selling guide would help you better understand your options.
If you're wondering do pawn shops buy diamond rings, the answer is also yes. You can explore the different possibilities for switching up your jewelry collection and bringing in a nice new diamond to put a huge smile on your face. It's all about quality and paying close attention to the gemstones and their composition will ensure you get a fabulous diamond to take your jewelry to the next level. It may not be quite as heavy as a 5.5 karat diamond, but it will shine brilliantly. When in doubt, a jeweler can work with you to obtain the diamond piece you're looking for.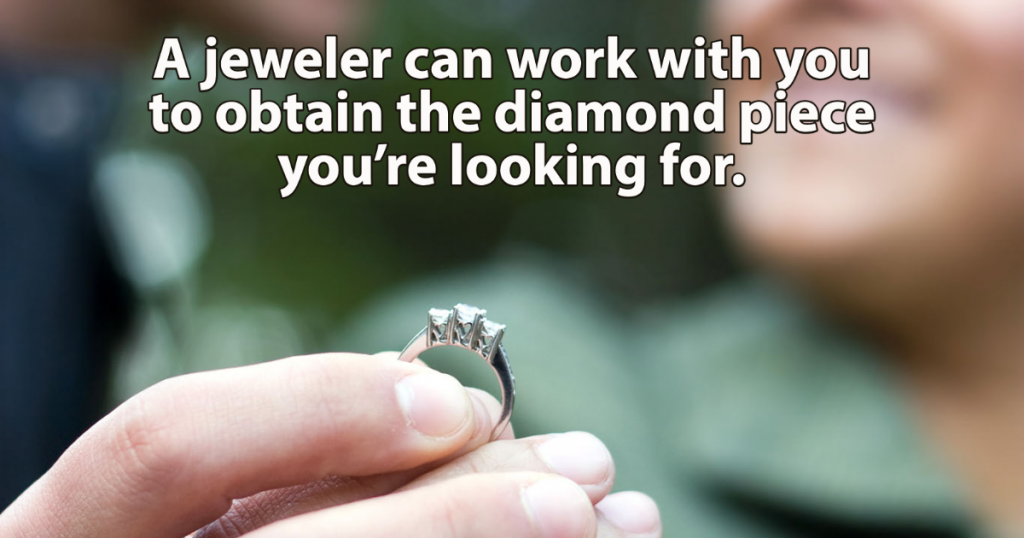 Considering that rings mark a wedding day's climax, there should be more attention to the type of jewelry you get for this special day. It starts with choosing the best jeweler.
Are you looking for artificial diamond wedding rings? Go to the best wedding jewelry stores. What should a good jewelry store look like? Good jewelers have variety. Different people have different tastes in jewelry. Some may prefer big gold wedding rings, while others are excited about big diamond jewelry. Such stores should also offer customized jewelry items. Most people prefer customized jewelry items to include their taste in the designs.
Reputable jewelers offer a wide range of products but are also keen to possess the right certification for gold and diamond jewelry items. Hallmarked jewelry is the best to go for as most stores maintain a transparent process. It guarantees you that the weight of gold bought is the right grade. An excellent jewelry store should have an online version store. Times have changed; people do not have time to visit stores.
Related Topics:
0.3 carat diamond actual size, 0.5 carat diamond ring on hand, 0.5 carat diamond ring size, 0.5 carat engagement ring on hand, 0.5 carat oval diamond ring, 0.5 ct ring, 0.6 carat diamond actual size, 0.6 carat diamond ring, 0.7 carat diamond actual size, 0.7 carat oval diamond ring, 0.70 carat diamond ring on hand, 0.8 carat diamond size, 0.8 carat oval diamond ring on hand, 05 carat, 05 diamond cost, 1 2 carat diamond ring on hand, 1 2 carat diamond ring size, 1 2 carat diamond size reference, 1 4 carat vs 1 carat, 1 4 ct diamond ring on hand, 1 carat cushion cut diamond ring on hand.